Comcast Technology Center is now open. Here's the story behind its world-class art.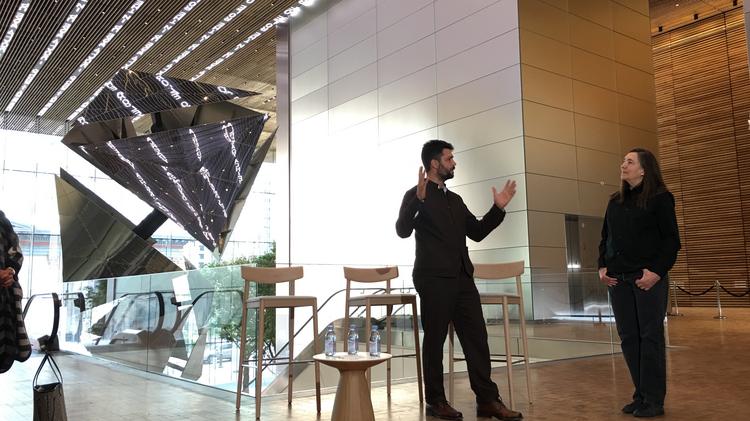 PEOPLE IN THIS ARTICLE

By Michelle Caffrey – Reporter, Philadelphia Business JournalOct 18, 2018, 10:27am EDT Updated Oct 18, 2018, 3:17pm
In the lobby of the new Comcast Technology Center, Conrad Shawcross tells a story.
The London-based artist's piece Exploding Paradigm, flanked by two sets of elevators on each side, starts small at the base, with its reflective triangular pyramids expanding larger, and larger, rising to the public lobby's second floor to dominate its view of 18th Street.
The piece reflects a narrative of humble beginnings, ambition and achievement, with a cautionary message underneath, Shawcross told the Philadelphia Business Journal Wednesday afternoon just before he and fellow artist Jenny Holzer officially unveiled the pieces they created for the futuristic skyscraper with CEO Brian Roberts, the famed architect behind the building, Lord Norman Foster and dozens of other stakeholders looking on. The building's lobby officially opens to the public Thursday.
"It's got all these wonderfully, hopefully quite optimistic, aspirational elements to it," Shawcross said. "I think that together with that as well, there is a cautionary element to it in the sense that this thing is sort of extending at such speed and such rapidity and with a sort of power, there is a sense that there is an unsustainability to it."
The world continues to seek growth at all costs, he said, but a sense of precariousness is an important reminder growth and security isn't guaranteed. With Exploding Paradigm also literally "exploded out," the tetrahedron's sides are expanded out from the others and suspended in air through a connection to a central, zig-zagging inner pipe, cast by an oil company in Sheffield, England.
"There is a mightiness to it and there's a sort of a monumentality to it, but there is a sense of fragility to it as well," he said.
As he introduced the artists, Roberts commented on the exacting perfectionism Shawcross — who learned how to rappel to install his piece himself — brought to process.
TRENDING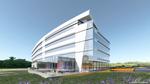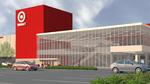 "When it was being installed, it was off by about five degrees in one piece and you were almost in tears until we could figure out how to fix it," Roberts said to him. "And it's fixed, and it's absolutely perfect."
Shawcross' piece, his first commission in the United States, technically begins on the floor below the main lobby, and when you stand at that lower level underneath it and look up, "it really is like a sort of like a beanstalk," he said. "It looks like this incredible, sort of tree-like structure that's spiraling upwards into the sky."
A half dozen real, live trees line each side of the lobby, subtly echoing the concept.
The piece is composed of tetrahedrons, four-sided triangular pyramids that have been a central focus of Shawcross' career, which itself is rooted in mathematical and spatial concepts as it relates to human progress.
What fascinates him especially is how the shape behaves when built on top of each other, forming a triple spiral that never repeats itself.
"It just goes on and on forever and never comes back full circle," he said. "But it forms a straight line a bit like sort of alien DNA or something. This is a beguiling particular property of the tetrahedron, so I was very interested by that."
Comcast commissioned Shawcross' work after Foster and Roberts' wife Aileen saw just a four-foot version of it in his studio. They wanted a piece that could communicate with the installation from Holzer, a well-known conceptual artist who's piece lives above, and purposefully reflects off of Shawcross' work, amplifying both.
Called "For Philadelphia 2018," the nine scrolling, narrow digital screens line the center of the lobby's ceiling, running like stock tickers, are of emblematic of Holzer's decades of work, often centered on placing thought-provoking one-liners in public spaces. The installation in the lobby displays not just the words of international poets, as previous pieces of hers have, but also Philadelphia-based writers, poets and school children who were asked to complete phrases about their lives in Philadelphia and their hopes for the future. It will run for 17 hours straight before repeating.
"We wanted to come up with what could seem inevitable, that of course, it's always been like this, of course it fits the building," Holzer said, adding later that the because of the building's many reflective surfaces, "this piece rocks at night."
One major reflective surface looming large in the background Wednesday was the Universal Sphere, a massive white globe that sits across from the Vernick Coffee Bar. If there are more details to the sphere, a specific purpose to or artist behind it, they haven't been announced.
During a brief Q&A with Shawcross and Holzer, moderated by Comcast Vice President of Local Media Development Ebonee Ruffins, I asked the artists if they saw a cohesiveness between their pieces and the sphere.
Ruffins answered instead.
"There was absolute intention in making sure that all of these works of art, these beautiful works of art, certainly work all together in this fantastic space. And that is the Universal Sphere. More to come on that at another time," she said before trying to move to another question. When I re-worded mine, Shawcross weighed in.
He said that at first glance, it would seem that his piece, made entirely of straight lines, is a drastic contrast to the sphere, but the two are more connected than that, as subtle, geometric lines cover the entire Universal Sphere.
"You've got that kind of philosophical question, is a circle one single line or an infinite number of straight lines? This one is basically differentiated into straight lines. So there's a complexity, which appears to be kind of like my piece. Actually they're all kind of differentiated, straight, orthogonal things, but create complexity through their complex geometry," he said, adding Holzer's piece echoes that geometry as well with is moving, geometric forms that are "visceral but also innate with meaning," he said. "There's a commonality to [all three pieces.]"
Holzer noted the traits of the sphere's reflective, shiny surface.
"They are my friend," she said.